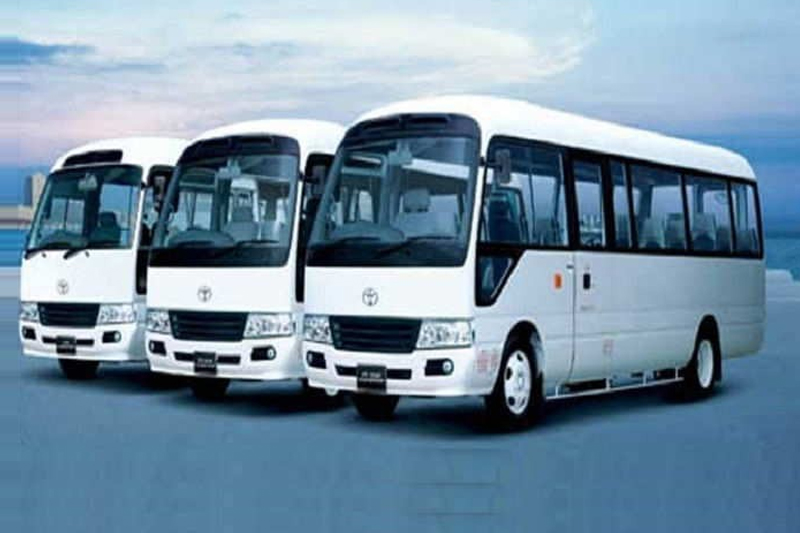 Coaster, 14 Seater Bus Rental In Dubai
OUR COMPANY

We offer fair-priced rental packages and excellent coaster bus rental in Dubai, UAE. We've seen continuous expansion and are now one of the leading bus rental companies in Dubai; by creating personal and flexible connections with our clients, we are devoted to offering economical, reliable, and safe transportation services.

Our company will provide the best vehicles for you if you consider specific vehicles. We work carefully to suit all clients' needs to the best of our abilities and consistently live up to the newest industry standards, with a brand-new fleet and unsurpassed chauffeur service. Our new buses and coaches provide comfort, room, and elegance.
OUR Services

If you need to hire a 50 seater bus rental Dubai, we help you make arrangements at the best possible terms. Whether you need a short-term rental or a long-term bus hire to visit Dubai, The key to making your next group vacation even more fun is selecting the right bus. We can help you find a variety of bus rentals, ranging from traditional school buses to more luxurious full-size motorcoaches, coasters, and top-end luxury coaches. To explore UAEs' mountainous roads and gleaming beaches, you can book a 14 seater bus rental in Dubai from any location and take a variety of stops and detours to make your trip memorable. You can get competitive rates on various coaches from prominent brands such as BMW, Mercedes Benz, Audi, Mercedes Viano, Mercedes Sprinter, and Yutong. One of our core services is also possible to rent a chauffeur-driven bus.
OUR BUSES

Our buses are outfitted with cutting-edge technology to make your journey even more enjoyable. We have a lot to offer your guests, from wireless Internet to LCD monitors. Our purpose is to deliver excellent service. We can pick up your guests from hotels or bring them from the airport to your event. Our buses provide amenities onboard to make everyone's life easier. In addition, if you want to throw a memorable bachelor/bachelorette party, we offer flawless casino bus journeys.

Please choose the right bus for your requirements based on group size, budget, and timeframe. We have all types of rental vehicles. Our staff can assist you in making the right choice, suitable to your needs; please feel free to call. Our company's primary goal is to deliver high-quality bus charter services within a reasonable budget while maintaining a high level of comfort, safety, and affordability.
ETA Star House Building 1st Floor #18
Salah Al Din Street Opp Reef Mall Dubai
+971-4 886 4957
+971-4 606 7918
+971-508769403
info@nasirnaiktransport.com