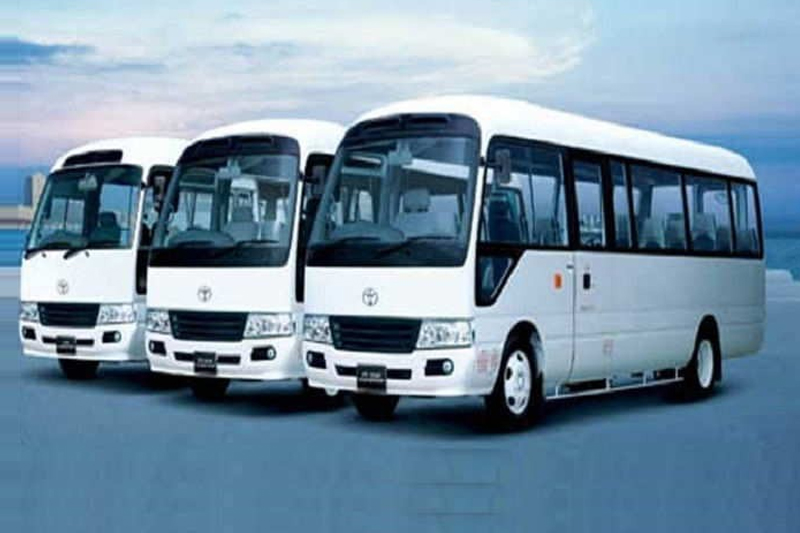 Bus Rental Services In Sharjah
Our bus rental services in Sharjah are intended for those clients who need long or short-term bus rental. We have the perfect transportation solution for you, whether you need a rent a bus in Sharjah for meetings, incentives, conferences, or exhibitions. Our vehicles are made to be enjoyable and comfortable to ride in. When traveling with a large group, you can rely on us because our vans can comfortably accommodate up to 56 persons. It is always preferable to travel with your group to events rather than traveling alone or in separate groups. When traveling in a large group, renting a bus in Sharjah is convenient. Everyone may have a good time. This also allows everyone to unwind instead of having to memorize venue directions. You may rely on your chauffeur to take care of the traffic while you and your party work or relax.

We are one of the leading bus rental companies in Sharjah. Our top-of-the-line modern luxury buses and professional drivers ensure that you travel with safety and luxury. Our fleet includes 50-seat luxury buses, 26-seat luxury buses, and 33-seat luxury buses. We provide the most competitive rental rates. We would be delighted to serve you with your transportation needs, whether for a private event such as a wedding, family reunion, office celebration, or school field trip. Our high-quality ground transportation and low-cost Bus Hire Services, and van hire have helped us establish ourselves as one of the UAE's leading transportation and bus rental companies.

Ensuring the most incredible levels of safety, comfort, and dependability for our passengers Our top-of-the-line charter bus fleet can accommodate groups of any size and is equipped with all of the amenities you'd expect from a bus rental company. We promise that your travel with us will always be safe and fun!
ETA Star House Building 1st Floor #18
Salah Al Din Street Opp Reef Mall Dubai
+971-4 886 4957
+971-4 606 7918
+971-508769403
info@nasirnaiktransport.com